My girls think family game night is the best time EVER! I guess we stay so busy during the week doing schoolwork, soccer, ballet, gymnastics, church, and a host of other activities, that when we have time to simply chill out and relax as a family they are in heaven. As much as they love it, we don't do it as often as they would like simply because games can get long and have no before-bedtime ending point.
Enter Wits and Wagers Family. NorthStar Games recently sent me this fun, family game, and it has become a favorite for the girls and for me.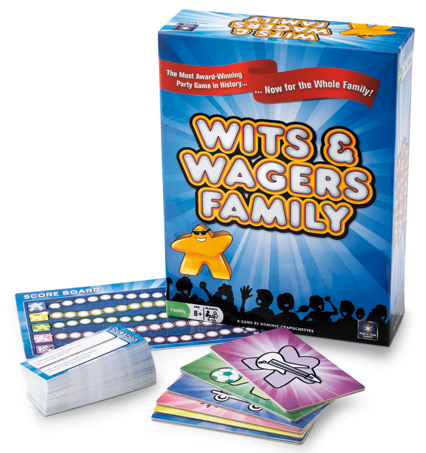 In Wits and Wagers Family, a question is read aloud. Contestants guess the answers (answers are all numerical) and write them down on their card. Players use their "meeples" to vote on which answer they think is the closest to the correct answer without going over. Points are awarded for closest answer and votes with meeples. It's super easy to learn how to play, and because it's the family edition, questions are appropriate for all ages. Even though Wits and Wagers Family says it's for ages 8+, my three year old enjoys playing. Granted, she doesn't understand many of the questions and can't write the numbers anyway, but we let her play along the best she can. And the best part of all – games take less than 15 minutes or so to play. That makes it a fun game to play, even on a school night! We will often pull it out for a quick game before bedtime.
Wits and Wagers Family is available online or at many major retailers like Barnes and Noble or Target. Price varies at each retailer. Still need to read more about it? Click here to see reviews by other TOS reviewers.
If y'all buy it, let me know. I really think you will enjoy it!