One of the core aspects of a classical education is learning Latin. For non-Latin-speaking parent/teachers this can sometimes be a challenge. I took my two years of Spanish in high school, but I have zero experience in teaching or speaking Latin. Fortunately, there are some excellent resources available to help. I recently received ten lessons from Visual Latin to review, and if you are struggling to teach Latin to your student, I'd be happy to recommend this wonderful program.
The program was developed by two homeschooling dads, one a Latin teacher and the other a producer. Dwane Thomas is the teacher, and he definitely brings a ton of fun to Latin. Yes, it's possible for Latin to be FUN when your teacher believes that it's better to make students laugh than yawn. He also believes that students learn more when taught in several shorter sessions than in one long one. Each lesson is broken into three parts, and there are downloadable worksheets for each segment. The first day's lesson contains a grammar lesson in which he teaches one to two new concepts. In the second day's lesson, those new concepts are used in sentences. I can't tell you how much success students feel when they can comprehend entire sentences!! And as Dwane says, those small successes lead to big success. The third day's lessons are the most exciting for students. In these lessons, he reads a story and believe it or not, students can understand enough of what he reads to grasp the concept of the entire passage. When they can understand what is being read, it is such a confidence boost for the kiddos. Of course, lessons start very simply and increase in complexity.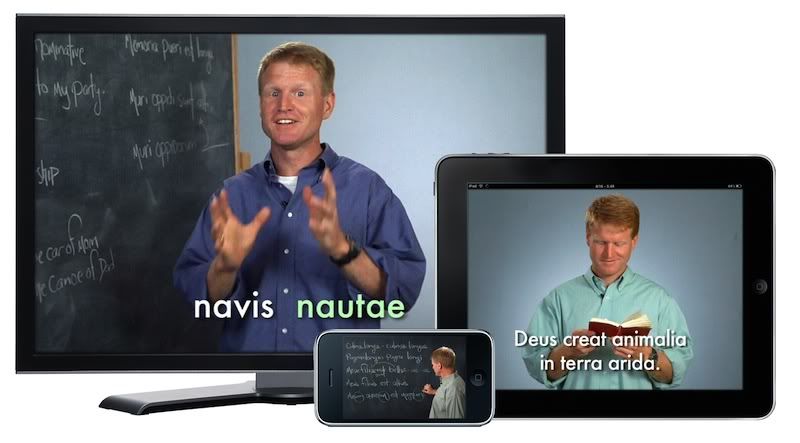 It's been proven that the more of our senses we use in learning, the more that learning "sticks". The approach that Visual Latin takes uses auditory (listening to the teaching), verbal (speaking it after the instructor), and visual (reading the worksheets). Visual Latin takes that learning concept a step further. They believe that language is best remembered not by memorization, but by usage. Therefore, instead of memorizing vocabulary, students are immersed in the language by reading sentences and hearing stories.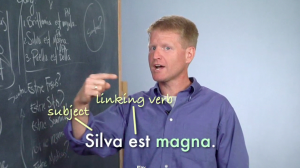 The Visual Latin Program is available at www.VisualLatin.com. It is recommended for children ages 9 and up. There are 30 lessons in Latin 1 and 30 lessons in Latin 2. They are designed for 30 lessons to be covered in one school year. Visual Latin can be purchased as a single/family or group/class (5 or more students). It is also available as DVD or download. (We did the download and it was fantastic!) Pricing on the options is as follows:
Lessons 1-30 (DVD – Single/Family) – $80.00
Lessons 1-10 (Download – Single/Family) – $25.00
Lessons 1-10 (DVD – Single/Family) – $30.00
Lessons 1-10 (DVD – Group/Class) – $150.00
If you are uncertain if Visual Latin is a good fit for your family, they offer a free download of six lessons. You can check that out by clicking here. If you'd like to watch a sample lesson, just click here. Although we received these lessons free for writing this review (all opinions, however, are my own) I will more than likely ditch our current Latin curriculum in favor of this one. Dwane is just too engaging, and therefore what he teaches is REMEMBERED by my girl. Instead of memorizing a list of vocabulary words, she is reading simple stories. Her retention is SO MUCH BETTER!!
If you'd like to read a few more reviews about Visual LAtin before purchasing, you can head over to the Homeschool Crew at The Old Schoolhouse and read up on it.