When I first began homeschooling my oldest daughter, I kept hearing about a fun literature-based curriculum called Five In A Row. Everybody that used it raved about it. It's a unit study approach that uses classic children's books as a starting point. Each unit study uses a different classic book and expounds on that book to teach geography, art, language, math, and science. Since I always knew I wanted a literature-rich curriculum, I thought it would be a perfect fit.
One of the things I found out very quickly about homeschooling is that there is a TON of fabulous curricula, and you can never get around to using everything you've heard good reviews about. Unfortunately, this was the case with Five In A Row. However, not long ago the Old Schoolhouse Homeschool Crew sent me a copy of Before Five In A Row, their version of Five In A Row for 2-4 year olds. Excited? Yes, I was.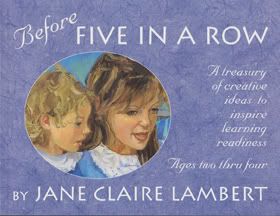 Before Five In A Row by Jane Claire Lambert is one of the best resources I have ever used with my little Pitter Patter. She loves classic children's books, and BFIAR uses some of her favorites like Jesse Bear, What Will You Wear?; Blueberries for Sal; Goodnight Moon; The Runaway Bunny; and Corduroy. She wants me to read the same book over and over for a week, so this is the PERFECT set-up for Before Five In A Row. You can tailor the book to your way of doing things, but here's how we would do it: The first night we'd read the book at bedtime. The next day we'd read it again and tie in the scripture passage that the book suggests. The next day we'd read it again and focus on the artwork in the book. BFIAR gives great probing questions for you to ask your child as you read. The next day we'd read and point out different shapes that are found in the illustrations. All of these are suggestions that the book gives. It was fantastic and made the book more interesting to read from a different perspective each time. There are twenty-three mini-units, so you could use a different book each week for almost six months.
The second half of the book is a section titled "Activities for Reading Readiness". It has forty pages of activities for parent and child to do together to prepare the child for a lifelong love of reading. It also has activities for enhancing large and small motor skills, cooking ideas, art and music activities, and a list of additional resources for use with small children. Such good stuff!
If you'd like to take a closer look at Before Five In A Row, please see their website. You may read other reviews of BFIAR here. BFIAR is available from Rainbow Resources for $35.00.
I received a copy of this book in exchange for writing this blog review. The thoughts and opinions, however, are my own.