As Christian parents we struggle and work so hard to teach our children Biblical principles and God's ways. Unfortunately, we live in a fallen world, and so they are also hearing competing messages from the world. Children can become so confused! It can be hard for little ones to distinguish between God's voice and the world's voice when it comes to issues like faith, obedience, what is acceptable, beauty, and morality. Discernment isn't something that comes easily, but it CAN be taught so that our children can successfully navigate these issues.
When TOS gave us the opportunity to try out Apologia's What We Believe series I jumped on it. The What We Believe series teaches children the essential beliefs of the Christian faith, and it is geared to kids ages 6-14. And, of course, along with learning the fundamentals, the books teach children a Christian worldview. I love how the books teach children how to make daily choices based on what they believe about scripture and what they believe God desires for them. Good stuff.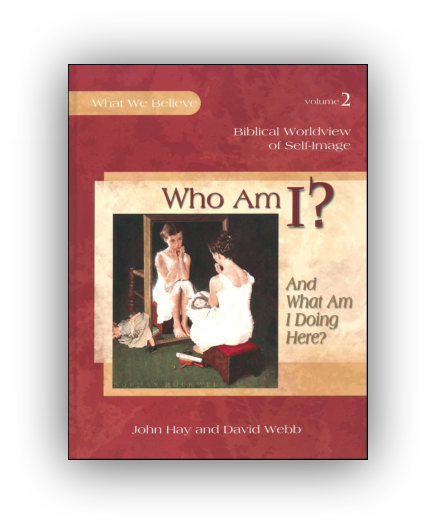 Although the first book in the series is Who Is God? And Can I Really Know Him?, we reviewed the second book Who Am I? And What Am I Doing Here? Though the books can stand alone, it really is easier if you start at the first book, as they build on each other. I feel like we'll need to go back to the first book before we can get the full benefit of the second book.
We were sent the textbook, which retails for $39.00 at www.Apologia.net. We also received the note booking journal ($24.00), the mp3 audio CD ($19.00), and the coloring book ($8.00).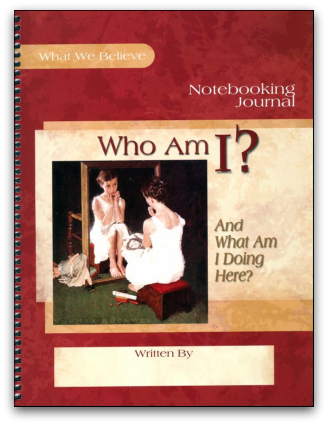 Each day, Mary Anneliese would read/listen to a section of the book and then complete the corresponding workbook pages. If she had trouble paying attention or sitting still, I would give her the coloring book to use while she listened. The book uses stories, scripture, vocabulary, and illustrations to teach the principles of Christianity. The workbook contains puzzles, creative and critical thinking exercises, crafts, and prayer pages to reinforce the ideas taught in the textbook. There is so much good material covered in the text and workbooks, but among my favorite topics are the difference in Christianity and other world religions, God gives us each special talents and abilities, the importance of what we feed our minds, and knowing whether to trust our feelings. As you can see, it is good messages that we all need to be reminded of, even the mama in this house!
I will say that my 10 year old had a little trouble understanding and completing the workbook on her own. I attribute this to not having completed the first book before we started this one. But once I talked her through the assignments, she was able to finish the work herself.
Still not sure if it's for you? You can read other reviews here.
Apologia is a well-known leader in producing quality creation-based science curricula for homeschool students. In fact, we have used their Exploring Creation with Astronomy series this year. I was so impressed that we look forward to starting Exploring Creation with Botany next year.