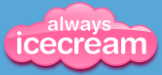 We have a new favorite website at the Hill Hangout. We were given the chance to review www.Always-IceCream.com, and I can whole-heartedly say that both the mama and the big girl in this house APPROVE and LOVE! I know that educational/game websites are a dime a dozen these days, but Always IceCream has done it so, so right. When I say it is educational, I mean that your kids actually learn a TON from playing on it. And when I say it is fun, I mean that my child asked to write this review herself because she wanted to be sure I endorsed it well enough. She played last Sunday for two hours. When I asked her what she was playing (thinking it was a game) she said, "It's called Language Arts." Alrighty then! Two hours of grammar never came so easy in this house.

Always IceCream was developed by Swenja Ziegler, homeschooling parent of five children. Although Always IceCream is fabulous for homeschoolers, it can be used and enjoyed by any girl ages 7-12. Always IceCream awards virtual points or "scoops" as a reward for playing "games". The awesome thing here is that the games teach geography, vocabulary, math skills, human anatomy, spanish, typing, language arts, states and capitals, presidential history, and so much more. The scoops are then traded for virtual pets and/or a virtual house, plus all the accessories to care for them. The more scoops girls earn with the educational games, the more they can shop or play just-for-fun games. It's easy. Just play a reducing fractions game and earn scoops to spend in MiniWorld. Do a Bible quiz and spend scoops to dress a Victorian girl. Identify pieces of classical music and earn scoops to spend on your pet. So, so fun!
Here's a look at the geography review:
And fun with typing skills: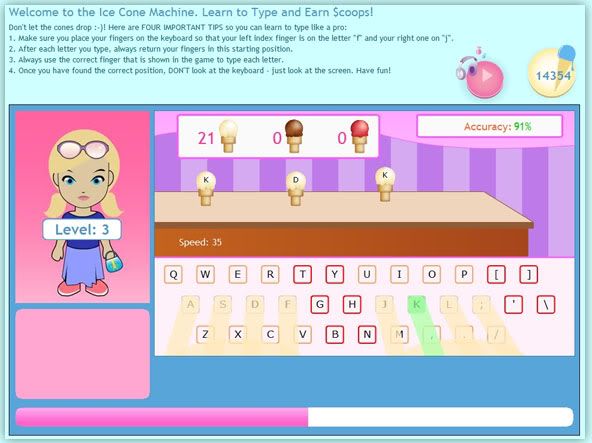 Scoops can be spent in Pet World: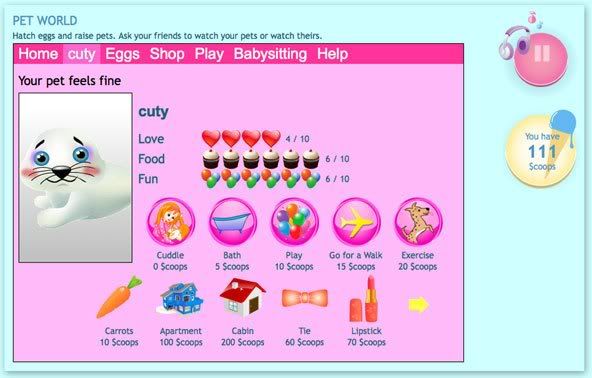 Girls have the opportunity to become "friends" with other girls on the Always IceCream community in a safe, fun environment. They can send and receive messages from their friends, and all messages are monitored for security reasons. Parents can link to their daughter's account and receive weekly emails about their daughter's progress in each category. I love receiving the reports so that I can monitor which areas my girl needs some help in.
The pricing for this website is really affordable, in my opinion. Cost is $4.99 per month or $29.99 per year. You also have the option of purchasing a lifetime membership for $99.99, which would be ideal if your girl is 10 or under! You can also give a gift membership (what a fabulous birthday gift!!).
Want to read more about Always IceCream? You can go to their website here, or read other TOS Crew reviews here. Even though Always IceCream gave me a two month membership to the site in exchange for this review, all opinions are my own.