A few months ago, I was chosen by The Old Schoolhouse Magazine to be a product review blogger for many of their educational products. That might not sound like any big whoop-dee-doo at first, but it means that I will be able to review for you (and sometimes GIVE AWAY!!!!) some fabulous educational materials. There will be books, curricula, puzzles, games, website memberships, and more. Good times for all of us.
HTML –
The first item I was sent for review is an educational website called www.BigIQKids.com. We were given the premium version to review, but they also have a free version. Both versions provide daily lessons in the areas of math, spelling, vocabulary, and US geography for students in kindergarten – adult age ranges. Students can complete each day's lesson in order to earn a coin that can be used to play a fun game in the gaming area. The game coins provide good motivation for the kiddos to learn and master the day's skills. The spelling and vocabulary sections are included in the free version, and they are fully customizable with your own words, or you can use their bank of over 40,000 words. The math and US geography sections have both a free and a premium version. You can see the comparison chart for free vs. premium here for math.
I set up the account for Mary Anneliese to have a grade-level review of math facts, her current spelling words, and a beginning level of US geography. She created her Big IQ Buddy, which is what they call their avatar, and set right out on her day's lesson.
HTML –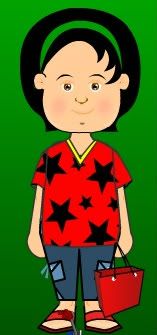 The math skills review looks a little like this, but is fully customizable to your student's abilities:
HTML –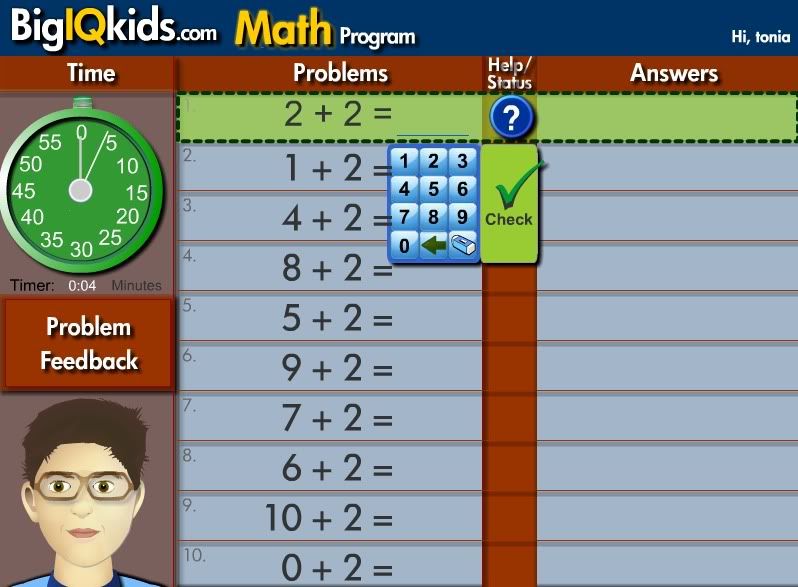 The spelling looks a little like this:
HTML –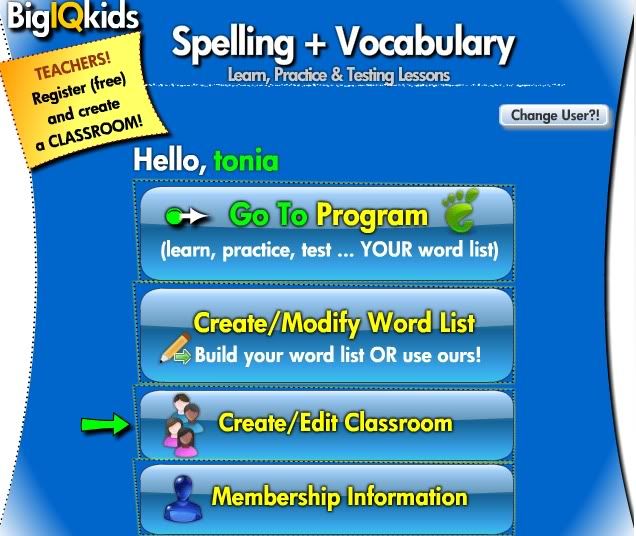 And US Geography:
HTML –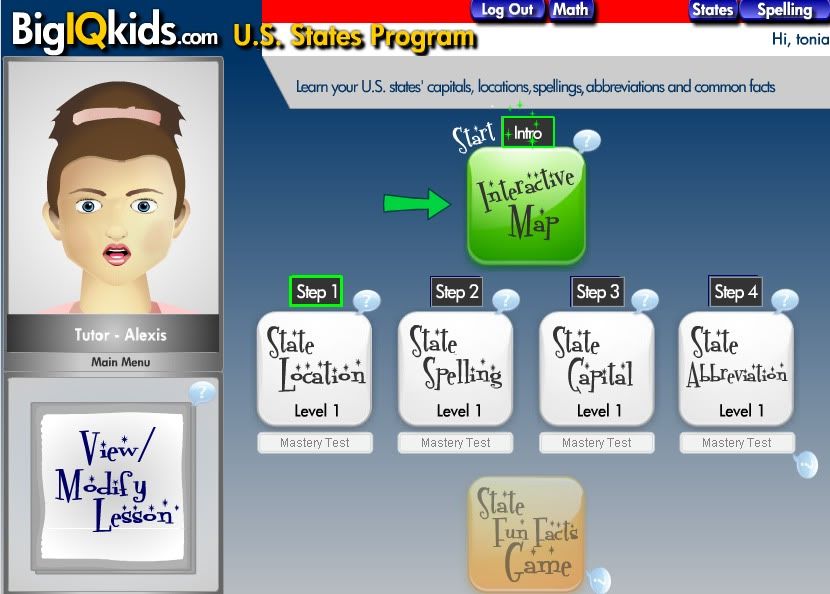 She was able to finish each lesson within about 10-15 minutes, and she could review the ones she missed. They even sent me an email letting me know the concepts she missed and needed additional practice on. Sweet!
If you're wondering whether www.BigIQKids.com would work for your children, I suggest you try out the free version and see if you need to upgrade to the premium version. Again, the spelling and vocabulary components are free. If you need to upgrade the math section to a premium level, you can do so for $9.99/month or a yearly deal of $49.99. If you need the junior spelling program, you can add it for $7.99/month or a yearly deal of $39.99. For US Geography, it's $39.99/year. There are also classroom packages available for teachers, which you can see here.
Mary Anneliese spent a good deal of time getting used to the program. There is a quirky computerized voice that she first found funny, but quickly adapted to it. The coins she earned for completing the day's lesson were good motivation for her. I liked the fact that I got email reports of her progress (only available with premium option.) It could be a little more user-friendly, as I had a hard time figuring out how to configure some things. There are training videos to watch, but I really didn't have time to watch the whole video to figure out how to do one thing. A homeschooling mama is busy, you know!
If your student needs a little help in math, spelling, vocab, or US geography skills, give Big IQ Kids a try, especially if computer games are a motivation for them! It just might be a winner for your family!
If you'd like to read a few other reviews of this product before trying it out, click here.
I was provided a premium membership to Big IQ Kids in exchange for writing this review. All opinions, however, are my own.