I don't know about your house, but at ours, math and science can be a bit of a challenge. It's not that MA isn't good at these subjects, it's just that she doesn't find them very practical. She hasn't yet asked, "When am I ever going to use this?" But that is the body language I get from her sometimes. Last year we used a supplemental math curriculum that she LOVED because it gave practical application to the math facts she was learning. However, we were given that curriculum, and I wasn't interested in paying for it this year, as we are already paying for one set of math books. Enter my opportunity to review AIMS Solve It! 3rd: Problem Solving Strategies.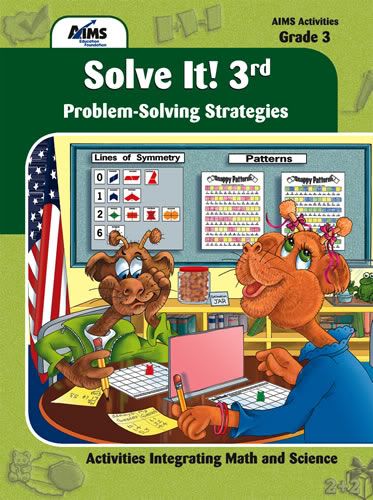 I was sent a copy of this workbook by AIMS (Activities in Math and Science), an organization that promotes hands-on learning as the most effective way to develop conceptual understanding of math and science. They have a ton of workbooks on different math and science subjects available for grades K-12. The book I reviewed, Solve It! 3rd: Problem Solving Strategies, is available in their online store for $24.95. I happen to feel it is worth every penny because it teaches problem-solving concepts in a clear, systematic way that I really believe most 3rd-4th grade students can easily grasp.
The workbook gives students nine different approaches to solving problems. The strategies are using manipulatives, writing a number sentence, drawing out the problem, guessing and checking, organizing the information, looking for patterns, using logical thinking, working backwards, and wishing for an easier problem. The workbook introduces each strategy and then gives three hands-on activities to teach that particular skill. As the book is set up for classroom teachers (but easily adaptable for homeschoolers), there is an accompanying CD that contains all reproducibles needed for each lesson, along with the rights to make 200 copies of each activity. If your classroom not have a manipulatives set, there may be additional products you need to buy, but they are all available through the AIMS online store.
We will continue to use this book, doing an activity each week, until we've completed them all. I really think that knowing practical application of math is an invaluable skill. This book goes SO FAR in teaching those critical skills. If you'd like to read more reviews of AIMS workbooks by my fellow Old Schoolhouse Magazine Crewmates, you can click here.

Although AIMS sent me a copy of this workbook in exchange for writing this post, all the opinions about the materials are strictly my own.